Billet Idler Stand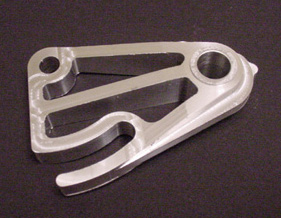 This precision crafted Billet Idler Stand replaces the stock cast stand with a sculptured part which starts from an one-inch thick, Aircraft grade, solid aluminum plate.
It is precisely CNC machined with the inside of the billet stand beautifully cut away leaving only a graceful tapered rib from top to bottom. The elegant, cut-away machining of the billet stand may look like a fragile part, but do not be fooled. The design and material selection of these billet stands make for a very strong and robust part.
These are a perfect compliment to our Billet Idler Pulley as the two parts blend beautifully together for a balanced, finished billet look on your engine. No need for you to spend hours cleaning, sanding and polishing your stock cast stand to make it look presentable with your detailed engine.
This billet stand is a direct replacement for the stock stand and will also work with stock idler pulleys. The Billet Idler Stand will also accommodate most of the spring loaded idler kits.
Note: The Billet Idler Stand is currently not available, but may be produced in the future with very limited availability. Please send us a note if you would like to be notified of the next available date.