Billet Fan Pulley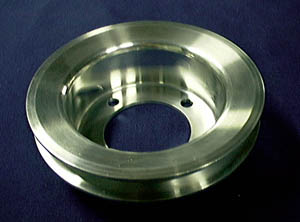 This performance Billet Fan Pulley is beautifully CNC machined from Aircraft grade Aluminum which is lighter and stronger than a stock pulley. The unique design and trademark precision of these parts offer many advantages over a stock pulley for any application, whether you're a Sunday driver or a weekend racer. Besides the beautiful looks and the light weight these Billet pulleys offer the following key benefits:


Will Not Rust - A stock steel pulley will rust if not driven often and this will lead to damaged, torn or frayed belts.

Will Run True - Precision, computer controlled machining allows the pulley's belt groove face, run-out and concentricity to be over 6 times better than a stock pulley, which can be 'out' by more than .060". These billet machined pulleys will run so true that your belt tracking will be significantly smoother, resulting in a noticeably quieter belt drive system.

Smoother Finish - The fine machined surface of the pulley's v-groove will not nick or wear a belt like the stock steel pulley can. This will increase belt life and belt tracking.

Always Looks Great - No rust or paint to flake or chip off. Beautiful machined surface will keep its great looks for the life of the pulley.

Better Fan Belt Tracking - The lighter weight of the Billet Fan Pulley adds far less inertial mass to the driven fan than the stock steel pulley. This greatly helps belt tracking during hard acceleration and engine braking by allowing the driven fan to react more quickly to the rapid changes in speed.
Made in USA
Billet Fan Pulley $78.65 + Freight

Please specify early (1960-64) or Late (1965-69)