Specialty Engine Parts
SafeGuard Individual Cylinder electronic ignition/knock control.
Corvair Roller Cam Kit. These cams are ground for solid bar stock, not from 'cast' cam billets as typical cams. This is a complete kit to install a solid roller cam into a Corvair. Easy to install, only needing a set-screw in each lifter bore. Roller cams will reduce friction, thus increasing your H.P. Considering similar camshaft performance profiles, the addition of a roller cam will net an increase of 15-20 H.P. Kit includes custom machined roller lifters, case 'inserts' and camshaft. Please contact us regarding camshaft profiles available for your specific application.

Click here to see photos of our roller cam kit and receive current pricing details.


Adjustable Cam Gear. The unique design this adjustable cam gear will allow you to easily adjust, with precision, the cam timing of your engine. This is important to every engine builder, no matter what your engine application is. More details, click here.
$284 each.

Performance Camshafts. We have many proven profiles available to fit your engine needs. Reground on your core or on a new cast billet.
$145 each, regrind.

Custom Con Rods. We can supply a CNC machined custom connecting rod for your engine. Any center to center length, big end size and small end size. Available in 4140, 4340, Aluminum and Titanium.
Please Inquire for current pricing.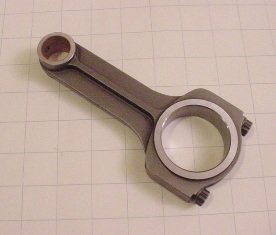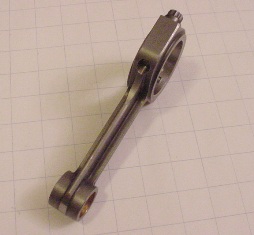 Corvair Roller Rockers. Made from CNC machined Aluminum with needle bearing trunions. Specific angles to match the Corvair cylinder head design. Properly installed* Roller Rockers will reduce valve guide, valve stem wear as well as reduce valve train friction resulting in a decrease in oil temperature.
$371 per set.


*Note: It is highly recommended that the proper rocker arm geometry be established on any engine during a rebuild. This is especially true when using Roller Rockers. Please see the availability of Heavy Duty Pushrods.


Pushrods, Heavy Duty , Custom Sizes for proper Rocker Arm Geometry. We make in-house and can supply any length of custom pushrod that you need to establish the proper rocker arm geometry for your engine. These pushrods have a special hardened end which rides against the pushrod guide plate for increased wear resistance. These H.D. pushrods are much stronger than a stock pushrod, especially in compression loads. Don't overlook the fact that a weak pushrod will flex during operation, thus effectively delaying valve event opening and altering your cam timing. Typically you will find the intakes and the exhausts will require different lengths. Available in standard CrMo and a special Heat Treated CrMo for high demand valve train loads.
$14.60 each. (Standard CrMo.)

Pushrods, Heavy Duty , Custom Sizes for Roller Rockers. These pushrods offer the same advantages as above, but are specifically designed to be used with aluminum body Roller Rockers. The larger body of an aluminum Roller Rocker requires a slightly different pushrod configuration to best work with the roller rockers and the valve train. Available in standard CrMo and a special Heat Treated CrMo for high demand valve train loads.
$15.80 each. (Standard CrMo.)9/1/14
Heavy Duty Rocker Arm Studs. Stock rocker arm studs are prone to fatigue after many years of use. Typically rocker arm breakage will be noticed after a rebuild, or when the heads are freshened up and new valve springs are installed. These Heavy Duty Rocker Arm Studs are manufactured from superior material, heat treated and are longer than stock studs to allow easy installation of positive locking devices, if desired. These are a must if you install Roller Rockers as the extra strength and length is required. If you are planning to install Roller Rockers at some time in the future, then consider these H.D. rocker arm studs now. In this manner when you install the Roller Rockers in the future you will not have to un-torque your heads to remove the stock rockers studs only to replace them with the H.D. studs.
$204 per set.

Extra Deep Aluminum Valve Covers. The extra deep aluminum valve covers are specifically designed to provide clearance for all roller rockers, high lift cams and all stud girdles. These high quality custom cast valve covers are fully made in Southern California and are black anodized to mil specs. The larger surface area of these extra deep valve covers and the black anodizing will be an aid to engine cooling and this greatly helps all performance engines. The tough surface treatment of the mil spec anodizing will not scratch or flake off like other paints or coatings.
$260 per pair. [also available in custom finishes such as show polish, please inquire]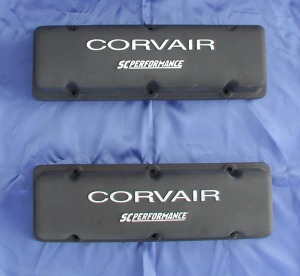 ARP Rod Bolts & Special Nuts. ARP is the quality automotive hardware supplier and these rod bolts are no exception. Stock rod bolts can fatigue and show evidence of cracks when inspected. You do not want the risk of breaking a rod bolt during engine operation by trusting your engine build with fatigued hardware. The special nuts supplied with this kit have a 12 point, 3/8" head with a 7/16" flange on the bottom. These hardened nuts have the same bottom diameter as a stock rod nut, but the smaller head will allow more clearance when assembling and torqueing the rods to the crankshaft.


Heavy Duty Case Studs. Stock case through bolts fit loose in the case, thus possibly allowing a high output engine to have relative movement between the two case halves. The precision machined replacements for the stock case bolts are designed to have a press fit into the case, thus locking the two case halves together. Installation requires a special reamer and six additional case nuts. Reamer available for rental.
$169 per set.


Corvair Extreme Boresm Kit (Corvair Cylinders). 0.125" over bore. 176 cu. in. displacement! Cylinders are bored and honed using a torque plate fixture to guarantee a round cylinder during actual engine operation. Complete with custom forged pistons, wrist pins and moly rings.
Inquire for current pricing [application notes]


Corvair Big Bore Kit. 3.1 L displacement! Kit includes new, Cylinders, Pistons, Rings and reworked connecting rods. Includes machine work on con-rods, heads and case to fit larger cylinders. Customer supplies connecting rod cores, case and heads to be modified.
$1575.00
Corvair Big Bore Kit. 3.3 L displacement. Same notes as above, but customer supplies a crankshaft to be modified.
Please inquire for current pricing
Linkage Kit For 40/46 IDA 3-C Webers or TWM F.I. Throttle Bodies.
A fresh, new approach to linkage design for these beautiful, exotic carburetors or your EFI system. Very low profile, clean design. Linkage is out of the way and does not cross over cooling fan. Extremely smooth operation.
(currently in testing)


Fast Idle Weber Conversion. This kit interfaces with the above Weber linkage kit and electronically controls the idle speed during cold starts. A control circuit monitors head temperature and applies proper idle speed adjustments during cold starts/operation.
(currently in testing)


Custom Carbs: Get the most out of your performance engine with these modified carbs. Blueprinting and custom carb machining. Bored out secondaries, profiled air horns, modified clusters, thinned throttle shafts, etc.
Custom Pistons. Any configuration required [pin height, dome profile, etc]. Premium Forged Aluminum alloy. Full CNC machined, drilled oil control holes.
(Please inquire for your specific application.)


Complete tune up/ignition kits. Specific for the demands of the TurboCharged and performance Corvair. Plugs, Wires, Cap, Rotor, Points, Condenser, Coil. Electronic ignition/pointless conversion. Only premium quality, Heavy Duty service parts.